We continue to make crucial progress on vaccinations, and containing and reducing the spread of COVID-19 — and San Francisco is truly leading the nation. And in May, we're celebrating Asian Pacific American Heritage Month, and we've been busy taking actions to lift up and support our APA communities in the face of continued violence and racism.

We're also gearing up for Affordable Housing Week starting on Monday, with some important upcoming events focused on housing needs in the Sunset and across the region. And we've been highlighting local small business leaders for Small Business Week, including POPS, OSMPA, Sunset Mercantile, and more.

Read on for details, plus updates on actions to support workers and address climate change, a neighborhood construction forecast, opportunities to save on healthcare costs, and lots more!

And finally, I'm all in for Mayor Breed's Small Business Challenge — to shop and dine exclusively with local businesses throughout May. We hope you can join in on the fun, support our vital local businesses, and maybe discover some new favorites! And Sunset Strong is here as a resource to help you do it.

And as always, we're here to serve you. Don't hesitate to reach out to us at marstaff@sfgov.org, sign up for virtual office hours, or stop by our booth at the farmer's market!

Public Health Updates
Vaccination Progress


San Francisco is leading the nation in our vaccination progress, herd immunity is reachable, and the vaccine is our path to get there. 74% of San Franciscans over the age of 16 have received at least one dose of a vaccine, and 52% are fully vaccinated. For all residents of all ages, 65% have received at least one dose, and 46% are fully vaccinated.

51,862 District 4 residents have received a vaccine, roughly 63% of our neighborhood.

As our vaccinations go up, our COVID-19 case rate has steadily declined to one of the lowest in the nation, a result of our collective commitment to follow public health guidance and get vaccinated.


Yellow TierBecause of our progress in beating the pandemic, this week San Francisco reached a major milestone in reopening our City: the Yellow Tier, the least restrictive tier in California's re-opening framework. Along with Los Angeles, which also advanced, San Francisco is the only urban county in the State to reach the yellow tier at this point.

With this, many businesses are able to reopen for the first time in over a year, including indoor bars, indoor family entertainment activities, outdoor organized community sporting events and indoor saunas and steam rooms — all with some restrictions.

In addition, guidelines have been loosened for a range of activities, including fitness, dining, offices, meetings, and receptions

You can see what is open and read the full guidelines and restrictions for SF in the Yellow Tier here.
Mask RequirementsThis week, San Francisco also updated the face covering order. Under the new requirements, people generally do not need to wear face coverings when they are outdoors, except when they are in large crowds (over 300), or for unvaccinated individuals, when they cannot maintain physical distancing with other households (recommended at least six feet).

You can read the full guidance at sf.gov/masks
Celebrating APA Heritage
& Addressing Anti-Asian Violence

APA Heritage Month I authored and passed a resolution recognizing and celebrating May as Asian Pacific American Heritage Month, and joined Mayor London Breed and City and community leaders in Japantown to kick-off the month.

This recognition comes at an especially challenging time for our communities, with the continuation of anti-Asian acts of hate and violence. We know that the solution to violence is to empower and unify communities, and our public institutions at all levels must respond to the community's urgent demands for action.
Citywide Plan Addressing Anti-Asian ViolenceLast month, I also convened a Board of Supervisors hearing on anti-Asian violence with Supervisor Connie Chan, and called on City departments to work together to create a comprehensive citywide plan to prevent violence and support victims in Asian American communities.

And last week, I introduced a resolution formalizing this call to action, and setting a deadline of June 1st for the first draft of this new citywide plan. The work has already begun, and I convened a productive meeting with the Mayor's Office and 10 City agencies, including the Human Rights Commission, SFPD, the District Attorney's office, the Department of Public Health, Adult Probation, Juvenile Probation, the Department of Disability and Aging Services, the Office of Civic Engagement & Immigrant Affairs, and the Sheriff's office. I look forward to sharing more updates on this comprehensive plan soon.

There's much more work to be done, and together, it's our duty to turn fear, sorrow, and rage into love, solidarity, and structural solutions.

Read more in the Chronicle and KQED.


API Safety & Solidarity MarchIn the Sunset, our neighborhood came together in a powerful demonstration of solidarity for the AAPI Safety and Solidarity March, and I'm grateful to everyone who showed up to support our AAPI communities

I want to especially thank our Sunset District community, faith, and labor groups for coming together to organize this event with my office, including the District 4 Youth and Families Network, Wah Mei School, Self Help for the Elderly, Sunset Church, Sunset Ministry, and SEIU 2015, and all the groups who hosted resource tables at the event to connect attendees directly with programs, services, and support.

Read more in the Examiner and NBC Bay AreaProtecting Access to Angel Island
When my father and my grandmother came to this country, like hundreds of thousands of other immigrants from China and elsewhere, they were detained at the Immigration Station on Angel Island under the racist Chinese Exclusion Act. As we recognize Asian Pacific American Heritage Month, we have to recognize this history.

Today, access to Angel Island as a historic, cultural, and recreational site is threatened by the potential cancellation of ferry service by the only operator between our City and the island.

So I've introduced a resolution calling for regional and state agencies to come together to maintain essential transportation service to Angel Island.

To build a more just future, we have to contend with the injustices of our past. We have to preserve these places, their memories, and their lessons.

Read more about this at NBC Bay Area or the San Francisco Chronicle.
Virtual Summit: Keeping Our AAPI Community Safe
Finally, District Attorney Chesa Boudin will be hosting a virtual summit entitled "Prevention and Protection: Keeping Our AAPI Community Safe". The event is focused on addressing what a hate crime is, whether or not current tools are sufficient for prosecuting hate crimes, and how we can best prevent violence against the AAPI community in the long term.

When: May 14, 2021, from 9:00 a.m. – 12:35 p.m.

Fine more details and register here.
Merchants & Mobility:
District 4 Community Forum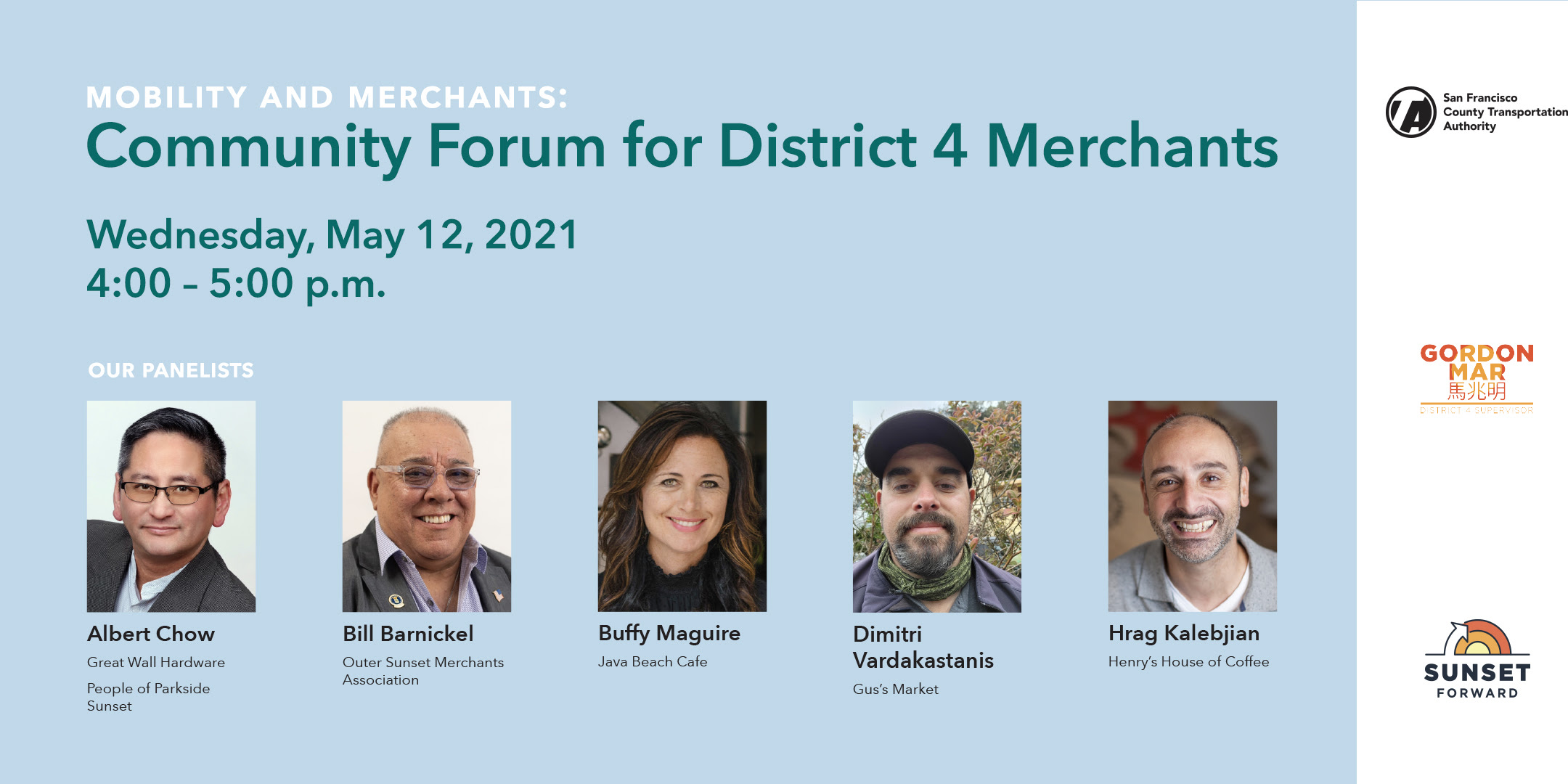 Join District 4 merchant community leaders and the San Francisco County Transportation Authority for a conversation on improving walking, biking, and transit access to the Noriega, Irving, Judah, and Taraval merchant corridors in Outer Sunset and Parkside. We'll discuss opportunities to improve transportation access for customers, employees, and more.

Date: Wednesday, May 12, 2021
Time: 4:00 – 5:00 p.m.
To register: d4mobilityandmerchants.eventbrite.com

This event is focused for merchants in the Outer Sunset and Parkside, but all are welcome to attend.
Register to AttendEvironmental Action
Building DecarbonizationOn Earth Day, we released a report we've been working on for some time with the Budget and Legislative Analyst's office, on strategies to reduce emissions from buildings. Natural gas combustion in buildings accounts for 38 percent of San Francisco's greenhouse gas emissions, and to realize a net-zero emission future and confront our climate crisis, we have to reduce this — quickly, and equitably.

This report is an important step forward, and I'm grateful for all the climate advocates who contributed to it. I've also called for a hearing on this issue, and will convene City departments and labor and community leaders for an important dialogue on strategies to reduce greenhouse gas emissions from buildings. The scale of our climate crisis demands action on every level, and electrifying our homes with 100% renewable power is a key strategy moving forward.

Read more in the Examiner
Oversight on the Cleanup of Contaminated SitesI also authored and passed a resolution in support of CA Senate Bill 37, authored by CA State Senator Dave Cortese. SB 37 would ensure that sites with contaminated soil and water on the state's "Cortese List" are barred from receiving exemptions to environmental review through the California Environmental Quality Act (CEQA).

A report by the San Francisco Chronicle last June revealed how the Planning Department exempted a dozen contaminated sites from CEQA review — something SB 37 would prevent if made law.

For neighbors, construction workers, environmental stewards, and future residents of these projects, a public process makes sense. CEQA provides public oversight and assurance that cleanup plans are properly done.

Read more about this important issue in 48 Hills
Supporting Workers
Fast Food Accountability and Standards (FAST) Recovery ActThis month I joined fast food workers mobilizing for better working conditions, and wrote and passed a resolution supporting California State Assembly Bill No. 257, authored by Assembly Member Lorena Gonzalez, to enact the Fast Food Accountability and Standards or (FAST) Recovery Act, legislation that would empower and protect California's half-a-million fast food workers — the fastest growing group of low-wage workers in the state. The FAST Recovery Act will ensure workers and employers work together with state agencies to raise overall standards and protections in the fast food industry.
Domestic Worker Health & Safety BillI also wrote and passed a resolution in support of California State Senate Bill 321, the Health and Safety for All Workers Act, authored by Senator Maria Elena Durazo to ensure basic protections against work related injury and illness for domestic workers. There are thousands of domestic workers in the Sunset, who are absolutely essential to our economy, and they — and all workers — deserve health, safety, respect, and dignity at work.
Affordable Housing Events

Know Your Rights Event for TenantsCome learn about Senate Bill 91 and the tenant protections currently in place, including protections from eviction and steps to take for rent debt relief.
This event is hosted in partnership with Faith in Action Bay Area, Westside Tenants Association, and the Office of Supervisor Mar.

When: 11:00 AM, Saturday, May 8th

Register here


Panel Discussion: "Rethinking the Suburbs"Guests from across the region will share their work towards a vision for housing that looks at racial equity and inclusion. Joining the conversation will be San Francisco Supervisors Gordon Mar and Myrna Melgar, Shajuti Hossain from Public Advocates, and Debra Ballinger from Monument Impact in Concord.
Moderated by KQED's Erin Baldassari.
Presented as part of the Council of Community Housing Organizations' Affordable Housing Week, May 2021.

When: 6:00 PM, Wednesday, May 12th

Register here
Summer Together:
Learning for all SFUSD youth this summer

Summer Together is a coalition of community organizations, nonprofits, businesses, and city departments partnering to offer free in-person and virtual learning experiences for San Francisco Unified School District (SFUSD) students this summer.

Families who were eligible for priority registration have been contacted by SFUSD. Please see the dates below for all families:May 8: General registration begins for ALL Summer Together providers.10am: SF Rec and Park Registration opens for all other SFUSD Students12pm: SF Rec and Park General Registration opensMay 10: DCYF begins outreach to priority families unable to register for an RPD camp for private camp experiences. More information coming soon.June 7-July 16: SFUSD-based summer programsJune 14-August 13: All other summer programming
​​​​​​​Learn More
​​​​​​​Construction Updates
L-Taraval Improvement ProjectAs Segment A of the L Taraval Improvement Project is nearing completion, street repaving is scheduled to begin on March 15 and continue for approximately a couple of weeks. During construction, temporary street closures and parking restrictions will apply where the work is occurring.

Work sequence: Paving will start on the south side of Taraval from 46th Avenue toward Sunset Blvd. from March 15 to 18, and then switch to the north side in reverse direction from March 18 to 24.

Work hours: Monday through Friday from 8 a.m. to 5 p.m.

Noise control: Measures will be taken to minimize the noise disruption; however neighbors close to the job site can hear some noise from construction vehicles.

L Bus Reroute: To accommodate the paving and street repair work, the L Taraval bus will be rerouted onto Ulloa Street in both directions between 35th and 46th avenues. The bus reroute will be effective on March 8 due to the street base repair work that has to be done prior repaving. The alternate bus stops located on Ulloa Street are parallel to the stops on Taraval Street.

L Taraval Bus Reroute to Ulloa Street affecting five stops in each direction:Missed Stops on Taraval toward Downtown
Replacement Stops on Ulloa toward Downtown
46th Ave., southwest corner
46th Ave., southwest corner
44th Ave., southwest corner
44th Ave., southwest corner
42nd Ave., southwest corner
42nd Ave., southwest corner
40th Ave., southwest corner
40th Ave., southwest corner
Sunset Blvd., southwest corner
Sunset Blvd., southwest corner
Missed Stops on Taraval toward Ocean
Replacement Stops on Ulloa toward Ocean
Sunset Blvd., northeast corner
Sunset Blvd., northeast corner
40th Ave., northeast corner
40th Ave., northeast corner
42nd Ave., northeast corner
42nd Ave., northeast corner
44th Ave., northeast corner
44th Ave., northeast corner
46th Ave., northeast corner
46th Ave., northeast corner

Substantial Completion: After the street paving, Segment A of the project will soon reach substantial completion, which means the major infrastructure work is done. Following that, more work is required to fully complete the project which includes testing of the tracks with trains, landscape and streetscape work. The Segment A of the project will be fully completed in the summer of this year.

The SFMTA would like to thank the neighbors and local merchants for their patience and understanding while they are making improvements to Taraval Street.

For more information, visit SFMTA.com/TaravalProject

19th Avenue Combined City ProjectPublic Works is the lead agency for this project, and they are working with SFMTA to minimize traffic impacts during construction. While there will be inconveniences, the benefits will be long-lasting: safer pedestrian corridors, more efficient Muni service, upgrades to the aging utilities and fresh paving. Here's the current construction forecast:

Emergency Auxiliary Water Installation 5/3/21-6/14/21 Irving Intersection Northbound block between Judah and Irving Concrete and Curbramp Replacement Work Judah Concrete Bus Pad Replacement 5/4/21-5/10/21Irving to Judah (Westside) concrete curb and gutter replacement 5/17/21-5/18-21 Lawton Southwest corner 5/19-6/7/21 Electrical Work Lawton Intersection 5/19/21 – 6/1/21 Segment 2
Water Pipe Replacement and Installation Ortega 4/26/21 – 5/13/21 Pacheco 5/14/21 – 6/2/21 New Covered California OpportunitiesThe American Rescue Plan recently signed into law by President Joe Biden has some exciting benefits for health insurance – both for those currently enrolled in a Covered CA plan or insured "off-network" – when switching to a Covered CA plan.

The new opportunities include:Consumers at any income level may be eligible for more financial assistance.Consumers who enroll in Covered California health plans will not have to pay more than 8.5% of their household income for a benchmark plan.Consumers who earn more than 400% of the Federal Poverty Level may be eligible for federal financial help for the first time.Consumers receiving unemployment compensation during 2021 may be eligible for the maximum amount of subsidies if enrolled in Covered California plans.Currently-uninsured consumers will see more financial help and lower premiums, with many qualifying for $1-dollar health plans—including some Silver plans.Consumers currently insured off-exchange may be able to save hundreds or even thousands of dollars by switching to the same or similar coverage through Covered California. Learn More
Virtual Office Hours
See you at the Farmers Market!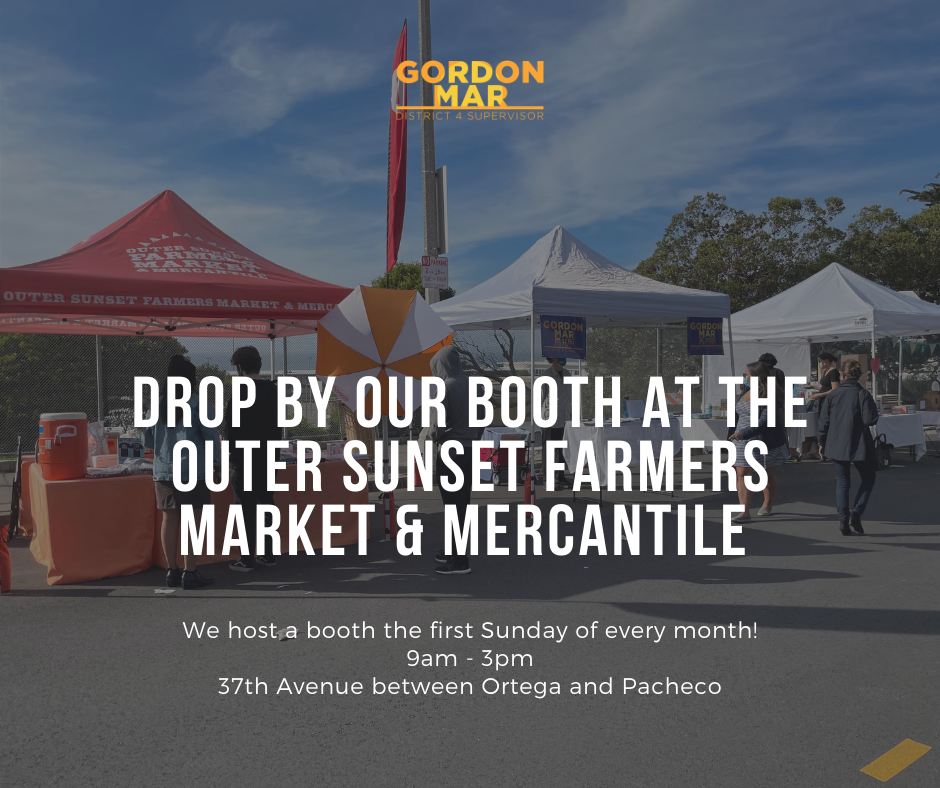 Sunset Spotlight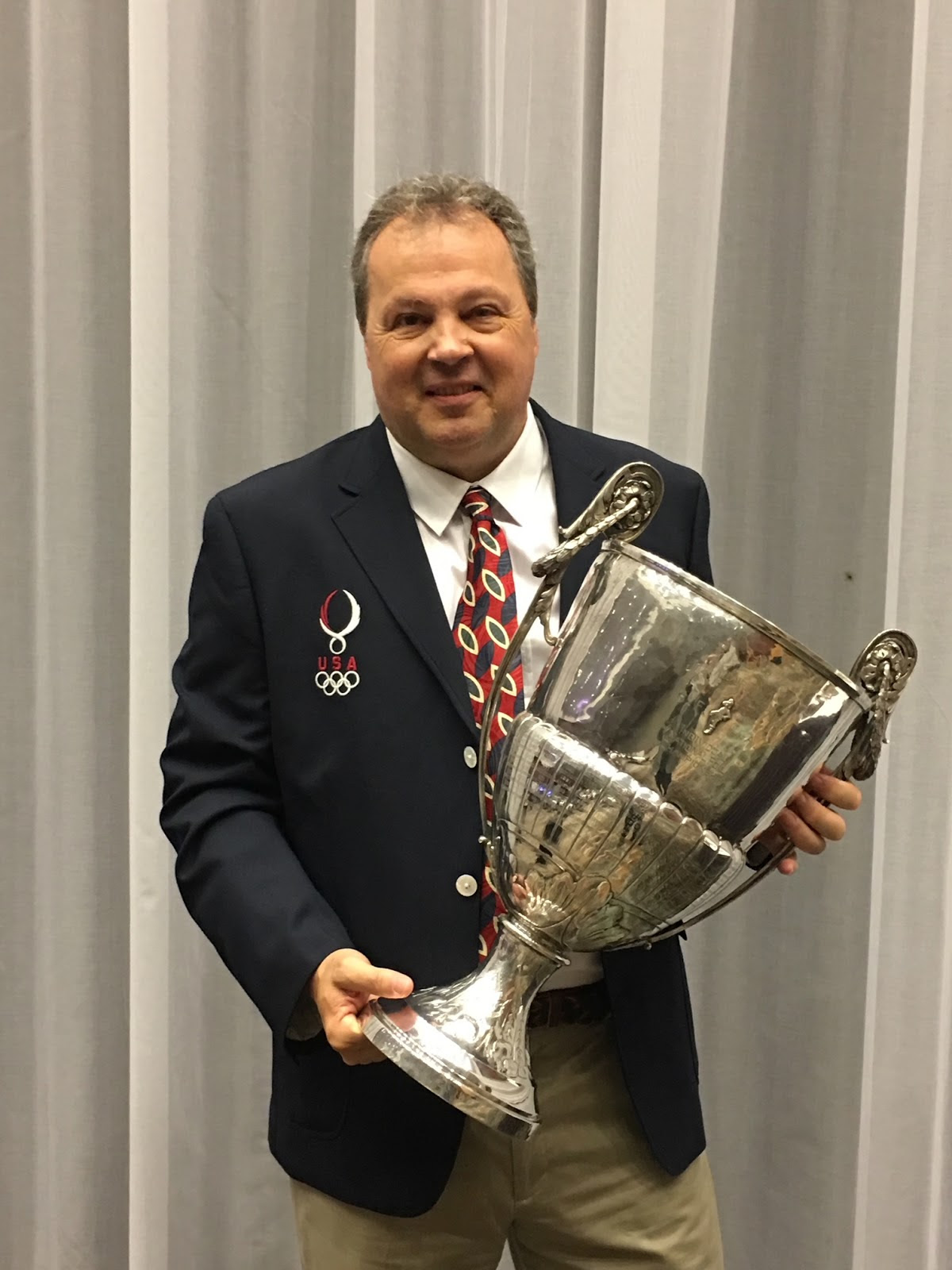 We want to extend a HUGE congratulations to the Olympic Fencing Coach Greg Massialas for being recently awarded Olympic Coach of the Year by the US Olympic & Paralympic Committee. Massialas, a three-time Olympian himself, led his team to end the 2019-2020 season in first place. He also guided his team to 17 world cup circuit medals and contributed to four American fencers ranking in the top eight in the world. Coach Massialas' fencing studio at 2530 Taraval has developed multiple Olympians and Olympic Medalists and we are very proud of his work.
Resources:
COVID-19 Data Tracker
City COVID-19 Website
Mental Health Resources
Food Resources
Domestic Violence Updates
Resources for Workers and Businesses