April 15th Newsletter

In this edition of my newsletter, you'll find information on: COVID response and vaccine updatesCommunity events including upcoming town halls on transit projects, housing, virtual office hours, free laundry day, and more.

Community resources and ways to engage in our beautiful districtThank you to our neighbors for coming together to create spaces for conversations to build community, conversations, and collaborations during this time.  I had a great time connecting with the Richmond District YMCA's wonderful Active Older Adult (AOA) members and staff at a virtual gathering with a tight-knit community, and many smiling faces! Thank you to SOAR for inviting me to a meeting to discuss priorities about personal safety and crime alongside our partners in public safety. And a special shoutout to the teachers and educators (and PTA's!) of some of our youngest learners for continuing to create positive spaces — I am grateful to everyone working together to get our schools open safely for in-person learning, hybrid style!

During this time, I am also hosting virtual office hours, the next one will be Friday, April 23 from 11 am – 12. Please contact chanstaff@sfgov.org or call 415.554.7410 to schedule a drop-in time. My virtual office hours are an opportunity to let me know any questions or concerns you might have, or just have the opportunity to chat with your district supervisor!COVID-19: Response + UpdatesSan Francisco residents 16 and older are now eligible for the COVID-19 vaccine. Go get vaccinated for your own safety and the safety of the community. Visit SF.gov/getvaccinated to book an appointment.

Get vaccinated as soon as it is available to you and help others sign up. Protect your health, save lives, and help us return to the activities we all miss.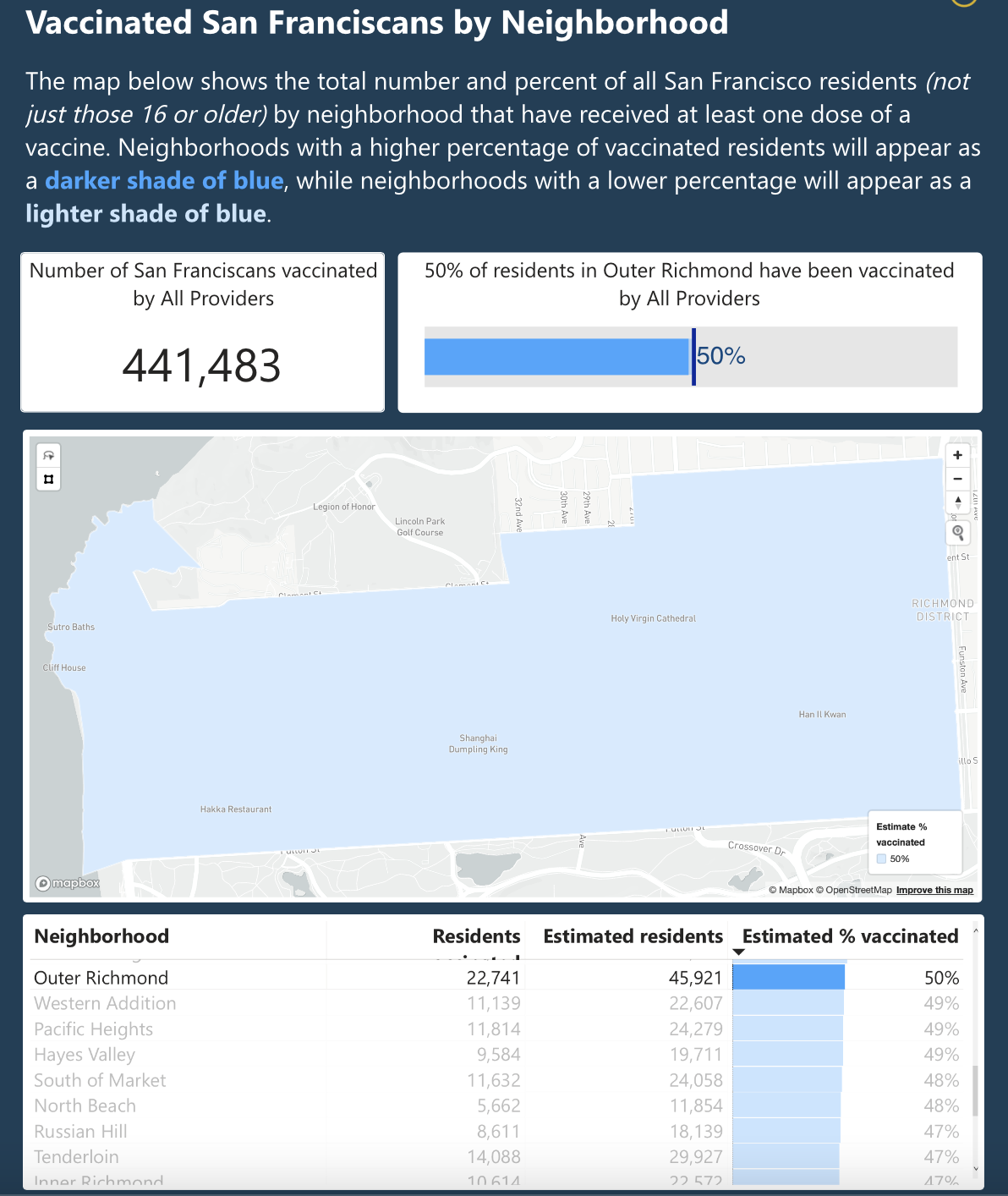 As of April 13, 50% of Outer Richmond residents, 47% of Inner Richmond residents, and 39% of residents in Lone Mountain/ USF have received at least one dose of the vaccine! Check out the city's data tracker here.



Kaiser Permanente and USF Koret Center have partnered to distribute the vaccine for people 65 years and older and people with disabilities. You do not need to be a Kaiser patient to make an appointment. For more information visit the city's website here. Appointments can be booked through the Vaccine Call Center 628-652-2700. The Richmond Will Not Be a Transit DesertThe pandemic has devastated our public transportation service and revenues. It also provided an opportunity to re-envision our streets and transit services and routes. As supervisor, it is my job to hold city government accountable and carry out necessary plans and operations for residents to safely and efficiently get from point A to point B and ensure we're truly a transit-first city.

Now is the time for the San Francisco Municipal Transportation Agency (SFMTA) to help the Richmond District and our City turn our re-imagined transportation system into a reality.

We have to ensure the Richmond is home to diverse residents with diverse options of modes of transportation. Road closures on Great Highway and in Golden Gate Park mean more residents feel comfortable biking, jogging, roller skating and walking down these streets. But, for seniors, people with disabilities, families that need to get to work and schools in the north-south direction every day may rely on getting around with their cars. To add to those challenges, SFMTA has informed us that, due to financial constraints and to comply with physical distancing requirements, it can only bring back public transit services at 85% at the end of the year. This means for many of our Richmond District residents, it will force people to drive or, worse yet, be stranded. 

My job is to hold all city departments accountable, demand transparency for our decision-making process, and rely on their subject expertise to develop solutions and plans. In this case, I am asking SFMTA to have a comprehensive plan addressing all these issues relative to accessibility and safety for all of our residents. We must work to address all these concerns before we move forward with any decisions. While all are works in progress, I know this one thing for you, and you have my commitment as your supervisor: the Richmond will not be a transit desert.
 Read More Here

Community Events:Suds and Solidarity:

A Free Laundry Day in the Richmond



A Free Laundry Day for neighbors experiencing homelessness or feeling the financial strain due to the COVID-19 pandemic has been scheduled for Sunday, April 18 from 8 am to 5 pm at Clement Laundry at 1024 Clement Street, and 1010 Wash and Dry at 1010 Clement Street.

This event is a collaboration between the Planning Association of the Richmond, Project Homeless Connect, Richmond District Rising, the San Francisco Neighbors Solidarity Network, and the Westside Tenants Association. 
 
Supplies and volunteer coordinators will be on-hand at each site. A GoFundMe campaign has been established to defray the cost of machine usage and laundry supplies. Sign up to volunteer below and please donate here.Sign up to Volunteer HerePlanning SF's Transit Future
Transit is essential to keep the City moving. But it can often be stuck in traffic or delayed because of deferred maintenance. As we begin to emerge from the pandemic, transit will be critical for our economic recovery and to manage growing traffic congestion.

The ConnectSF team has developed a strategy to bolster San Francisco's transit system and regional transit connections. ConnectSF is a multi-agency collaborative process to build an effective, equitable, and sustainable transportation system for San Francisco's future.

The strategy has four elements:Make the system work better with aggressive maintenance and restoration.Deliver a five-minute network for reliable transit service citywide.Increase speed, reliability, and capacity for a modern rail system.Build rail where bus service is not sufficient to meet demand.For more details and to send in your feedback by Friday, April 30 on the types of transit improvements most important to you, visit this website.

You can also give feedback at an online Town Hall on Wednesday, April 21 from 5 pm – 6 pm. After registering, you will receive a confirmation email containing information about joining the meeting.
 Register HereSF

Fire Department Hose Tender Demonstration




The San Francisco Fire Department will be demonstrating the importance of hose tenders to protect the Richmond District in the event of a large fire or failure of our water supply system following an earthquake. You can safely watch this demonstration on April 24 at 10 am at Transverse Drive and JFK Drive. 

Hose tenders create a makeshift, above-ground water main that can distribute water throughout the City to prevent fire from getting ahead of firefighters. This critical equipment is what saved the Marina District after the 1989 earthquake damaged hundreds of water mains. I thank the SFFD for their efforts to modernize their fleet and increase the number of hose tenders in order to provide greater protection for our neighborhoods.

Love Your Neighbor(hood) Donation Drive + Beach Clean-Up


This Earth Day weekend, join your neighbors for a beach clean up! On Sunday, April 25 between 10 am – 1 pm you can meet at Stairwell 4 on Ocean Beach to help clean up our beloved beach. Look for the "Zero Waste Station". Due to the current public health guidelines, participants must wear masks and maintain a social distance of at least 6 feet from others. 

Please bring your own buckets or bags, litter pickers, gloves, and any other supplies needed. Trash collected can be diverted from landfill to at the "Zero Waste Station." Hand sanitizer and masks will be available there.

Items for donation can also be dropped off at the Zero Waste station.

Registered participants will receive a discount code  for delivery in reusables for restaurants partnering with Dispatch Goods and an invitation to sign-up for the free Trash Hunters app.

Questions & day of event contact: Marria Evbuoma marria@racetozerowaste.org

 Register HereWestside Affordable Housing WorkshopYou're invited to a Westside Affordable Housing Community Workshop on Thursday, April 29 from 5 to 6:30 pm. Come learn more about efforts that are underway to address the growing need for affordable housing on the westside, and how you can get involved! We are pleased to have the following panelists join us:Anni Chung, President and CEO, Self-Help for the ElderlyKaroleen Feng, Director of Community Real Estate, Mission Economic Development Agency (MEDA)Joseph Smooke, Community Organizer, Richmond District RisingThis event is organized by four non-profits,Community Youth Center, Sunset Youth Services, The Richmond Neighborhood Center and Wah Mei School, that are working collaboratively together to advance affordable housing in Districts 1, 4 and 7. We look forward to seeing you thereRegister Here

Accessible Dwelling Unit Workshop




Do you have questions about Accessible Dwelling Units (ADUs)?

We invite you to attend our ADU workshop, hosted with presenters from the Planning Department and Department of Building Inspection. At this event, we will discuss what you need to know about adding an ADU to your home or building. We will also provide information on the City's new ADU fee waiver, which is now in effect, and answer any of your questions.
 Register HereBudget Town Hall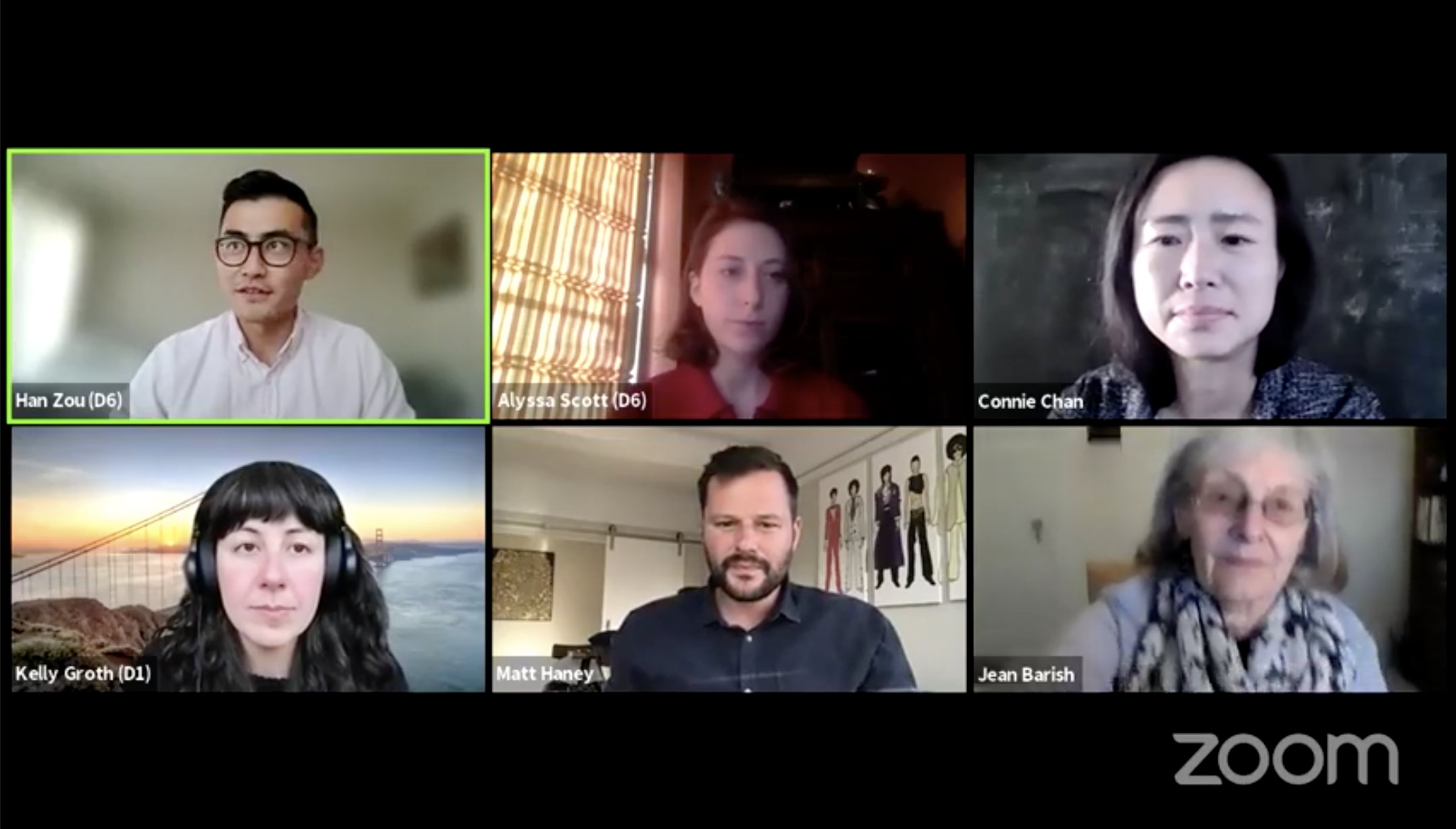 Miss our budget town hall last week? You can watch the recording via Facebook and email any questions you have on the budget process or District 1 questions to chanstaff@sfgov.org.Community Updates:#OneRichmond HeroesIn our upcoming newsletters, we will be highlighting some of our extraordinary neighbors and community partners who are our #OneRichmond heroes, and sheroes! Individuals who are unifying our community and cultivate neighborhood pride centered on taking care of one another, taking care of the Richmond, and supporting our local businesses.

Caina LiCaina Li goes out of her way to build and maintain relationships with clients, new and long-term, constantly seeking out new and improved resources and information that our community requests. She recruits presenters from the Department of Environment to the District Attorney, Muni, and more — all in service of making sure that seniors and adults with disabilities in the Richmond, Sunset, Chinatown and beyond have access to the same information and resources their English-speaking neighbors do.  
 
Caina is one of the senior centers and Richmond District's tireless interpreters, relaying information in Chinese to community members via WeChat, at community events (on her own time), and more. She even goes the extra mile to share her own talents and joys – sharing plant cuttings, seeds, and tips with her neighbors and participants in the center's Garden Club. 
 
She regularly helps with meal deliveries in a pinch, often by hand or cart, pounding the pavement to deliver to elders and adults with disabilities the meals they rely on. If a problem arises you can count on Caina Li stepping forward to fix it. 
 
The Richmond District and San Francisco are lucky to have a resident as thoughtful, committed, and caring as Caina Li.SFMTA Updates
Park Presidio HOV Lanes
On parts of Park Presidio/Crossover, SFMTA is proposing to install temporary high occupancy vehicle (HOV) lanes, for transit and other vehicles with 2 or more occupants, as an emergency response to help mitigate the possible impacts of increased traffic in the coming months. As a temporary measure, these lanes would be automatically removed within 120 days after the emergency order is lifted, unless there is a public process to make the lanes permanent.

The project will be holding a public hearing alongside a presentation to the SFMTA Board of Directors at their April 20 meeting. If approved, the implementation of the HOV lanes would follow soon after.
 


Anza Street Bike LanesThe SFMTA is hosting a Virtual Engineering Public Hearing for the Anza Street Bike Lanes Project on Friday, April 30, at 10:00 am. You may access this event by visiting SFMTA.com/ENGHearing or, to join by phone, please dial 888-398-2342 and enter the code 8647385.The Anza Street Bike Lanes Project proposes to enhance roadway safety for all users. Changes which are proposed as part of this project include:Bikeways on Anza Street between 30th Avenue and Masonic AvenueReduce through vehicle lanes from 4 to 2 between Arguello Boulevard and Parker AvenueParking removal: 7 spaces total near Park Presidio for continuity of bike laneNew or upgraded continental crosswalks at 23 intersectionsAdvance limit lines at signalized intersectionsSpeed cushions on Anza Street east and west of Collins StreetPending project approvals, implementation could begin by Summer 2021.Detailed legislation and drawings are available in the public hearing agenda at SFMTA.com/engineering. For more information, contact the Project Team at anzabikelanes@SFMTA.com or visit the project webpage at: www.sfmta.com/anzabikelanes.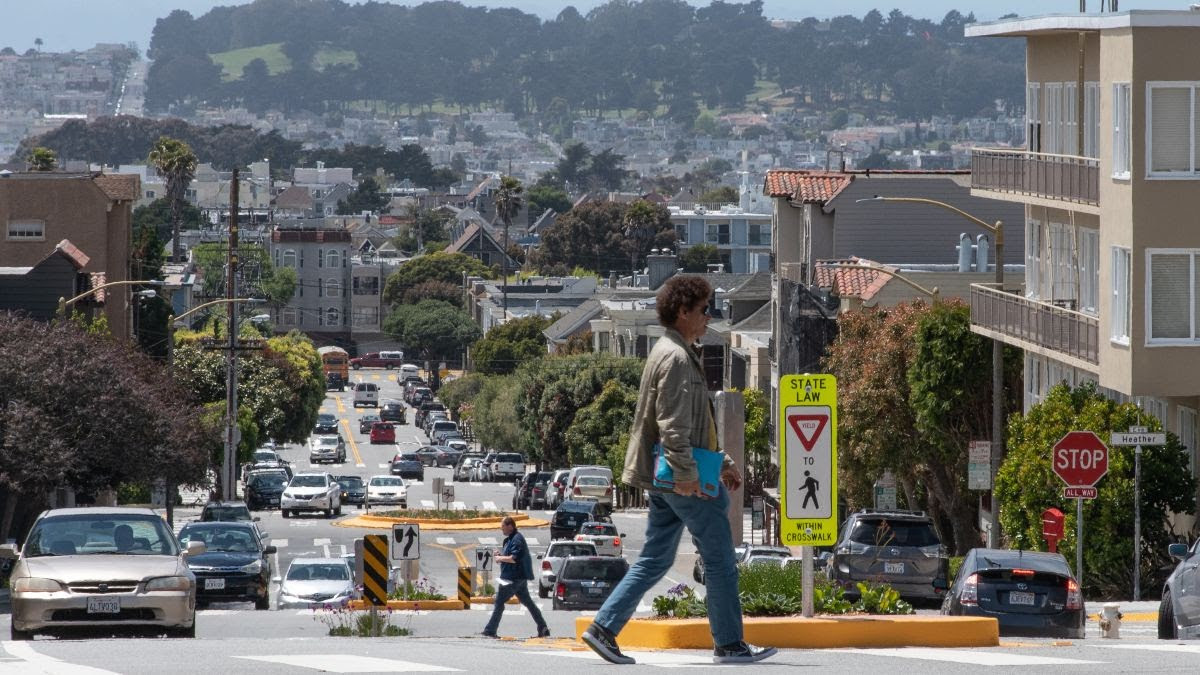 SFMTA's Residential Traffic Calming Program
Applications for SFMTA's Residential Traffic Calming Program are due June 30.

This resident-directed program implements traffic calming measures to reduce speeding on residential streets in San Francisco. Apply for traffic calming measures to create safer and more comfortable streets for people walking, bicycling, and driving in your neighborhood.4200 Geary Opportunity.




This week, a commercial request for proposal for the new housing development at 4200 Geary Blvd has been released! Located in a vibrant location and on a well-traveled corridor in the Inner Richmond, this location is perfect for aspiring entrepreneurs and seasoned business owners alike. The proposal is due by May 18th. You can get more information here.420 @ Golden Gate Park CancelledLarge gatherings are still a no-go under the health order, which is why the Recreation and Parks Department has cancelled the annual 420 celebration in Golden Gate Park. Anyone hoping for a party will be disappointed: Robin Williams Meadow/Hippie Hill will be fenced and inaccessible.

Celebrate in the comfort of home this year with live streamed comedy, music and more at 420hippiehill.com. Still want to get outside? Avoid the crowds and explore nature at your neighborhood park (SF has more than 220!)LGBT

Center Host Homes


 Do you live in SF and have a spare bedroom or private space that can be turned into a bedroom? The San Francisco LGBT Center's Host Homes Program matches San Francisco volunteer hosts with young adults (ages 18 to 24) who need stable housing for a period of three months to one year. During this time, the young adult pursues their education and employment goals alongside support from our case management team, and is then positioned to find their own housing after the program period ends. The young adult participants have previously experienced unstable housing situations like couch surfing, sleeping in cars, and living in non-affirming households.

To learn more about the program and hear participants' stories, please register hereto attend a virtual information session. For more information about hosting or to connect with a current volunteer, contact us at hosthomes@sfcenter.org or 415-852-2059. sfcenter.org/hosthomes
 Emergency Rental Assistance ProgramIf you have rent debt and meet certain requirements, you may be eligible for rent relief established under the Emergency Rental Assistance Program. San Francisco residents have access to two pools of funds from the State and from the Mayor's Office of Housing and Community Development (MOHCD).

State funds target rent debt incurred from April 1, 2020 to March 31, 2021, while MOHCD funds target rent debt incurred after April 1, 2021. Renters experiencing COVID-related financial hardship and are earning less than 80% of Area Median Income are encouraged to apply.

Please refer to the following links for guidelines, instructions, and application forms.

State Funds: Housing is KeyFor LandlordsFor RentersFor additional assistance: call the COVID-19 Rent Relief Call Center: 833-430-2122 Local Funds: MOHCDAdditional information(MOHCD anticipates to launch its program in May)Sign Up for the District 1 NewsletterBoard of Supervisors | District 1 | Connie Chan 陳詩敏
1 Dr. Carlton B. Goodlett Place, San Francisco, CA 94102
(415) 554-7410 | Fax: (415) 554-5163