District 4 March Newsletter

San Francisco officially entered the red tier in the state re-opening framework, allowing additional activities and businesses to resume recently, including, with limitations:Indoor diningMuseumsMovie theatersIndoor gyms and fitness studiosExpanded indoor retail capacityThis is welcome news to all of us, but especially to our local businesses and cultural institutions that have been devastated by the continuing closure of much of our economic activity. These activities still carry risks, and we still must take care, wear our masks, and follow all public health guidelines.

We're able to take these re-opening steps — and expect to take even more later this month — because both hospitalizations and case rates for COVID-19 have continued to decrease dramatically from their peak this winter:


And while cases are going down, vaccinations are going up. Every day, thousands more San Franciscans are being vaccinated, and we get closer and closer to herd immunity and a fuller return to our normal lives.

Over 260,000 vaccine doses have been administered in San Francisco already, covering nearly 20% of City residents:


The development of distribution of these vaccines is one of the largest scientific and logistical achievements of our lifetimes, and it's saving countless lives. And Sunset residents have received our share of vaccine doses. Even without a mass vaccination site on the westside, the vaccination rate for District 4 residents is above the Citywide average, coming in just under 23%: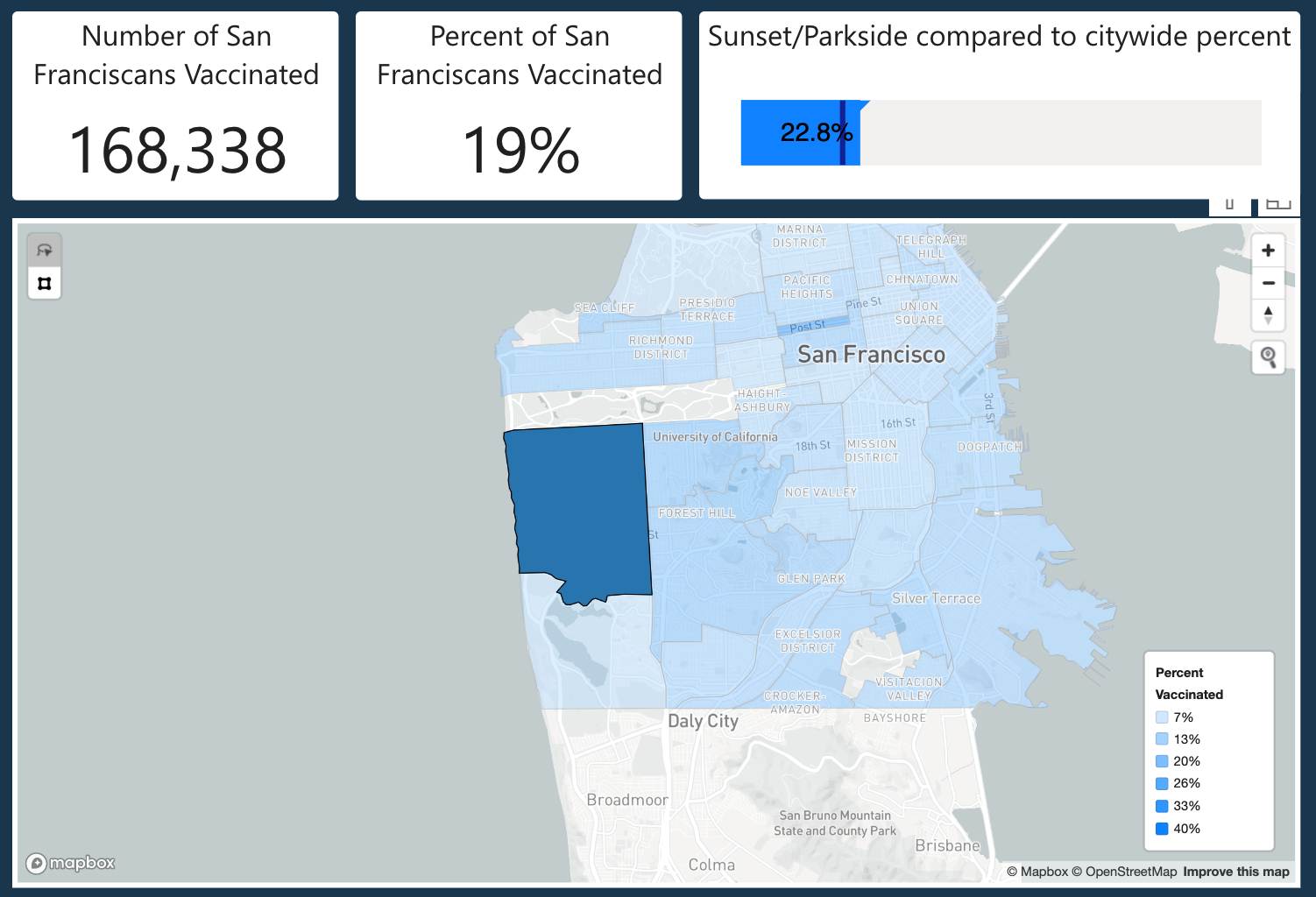 We recently held a virtual informational meeting on the City's vaccine rollout for District 4 residents — if you missed it, you can watch the recording here. And for Cantonese-speaking residents, a recording of the citywide town hall on vaccinations is available in Cantonese here.

Vaccinations are happening in and near the Sunset at a number of sites, including:


Medium-Volume SiteDPH + Safeway Pharmacy at SF State University (open to those with and without insurance)
Healthcare SystemUCSF Parnassus – 505 Parnassus Ave (for UCSF patients only)
Community Vaccine Access Sites
Clinics:North East Medical Services (NEMS) – 1400 & 1450 Noriega Street (NEMS patients only)Ocean Park Health Center – 1351 24th Avenue (SF Health Network patients only)Grace Pacific Medical Group – 1431 Noriega Street (mix of patients and non-patients)Sunset Health Services (Chinese Hospital community clinic) – 1800 31st Avenue (mix of patients and non-patients)Asian American Medical Group (AAMG) mobile unit with Self-Help for the Elderly at South Sunset Senior CenterMobile Sites:Pharmacies (open to all eligible for vaccinations)Walgreens – 3001 Taraval StreetWalgreens – 1201 Taraval StreetWalgreens – 1750 Noriega StreetWalgreens – 2050 Irving StreetSafeway – 2350 Noriega StreetCVS – 1900 19th AvenueSafeway – 730 Taraval Street
You can learn more about vaccines, who can get them, when, and how here, and view all the City's COVID-19 data and reports here. For information on pharmacy vaccinations, visit the pharmacy's COVID-19 vaccine websites: Walgreens, Safeway, CVS.



I recently visited the Asian American Group vaccination clinic on Noriega St., where they're vaccinating nearly 200 community members a day, and also visited a special vaccination clinic for monolingual seniors at the Jackie Chan Activity Center on Geary and expressed my deep appreciation to the volunteer doctors from the Asian American Medical Group and Self-Help for the Elderly for their partnership bringing the vaccine to many of our most vulnerable community members at senior meal sites in the Richmond and Sunset Districts.


Later this month will be the one year anniversary of the original Shelter in Place public health order. It's a heady milestone, capping off a full year of grief, stress, and immense challenges.

And, some lessons we can take with us into the future, some opportunities to reassess and reimagine things we've taken for granted, address inequities this virus has increased or revealed, and do the hard work of building back better and bolder than before.

And now, finally, some real hope. Hope that these re-openings will be final, and permanent. Hope that, with the leadership of the Biden Administration, vaccine supplies are increasing even faster than expected. Hope that soon — in months, not years — we will have near universal protection from a virus that has taken over half a million American lives, and forever changed millions more.

All we need now is to hold onto this hope a little longer to see it realized, to not yet let down our guards, to stay safe all the way across that finish line. It's close, and we've come this far together.


District 4 Virtual Town Hall: Supporting Seniors

Saturday, March 13th, 10am – 11am
Join Supervisor Gordon Mar and a panel of community leaders for a District 4 Virtual Town Hall focused on supporting seniors in the Sunset!

This town hall will feature information on programs, services, and support available to seniors, discussion on the unique needs of our senior community, and an opportunity to submit questions for our panelists.

Register to attend
Submit questions in advance

Featuring:
– Shireen McSpadden, Executive Director, Department of Disability and Aging Services
– Anni Chung, President and CEO, Self Help for the Elderly
– Margaret Graf, Founder, Senior Power
– Bianca Nandzik, Co-Founder, Sunset Neighborhood Help Group
Register to AttendCrime and Violence Targeting Asian Americans

In light of the latest wave of unprovoked attacks against vulnerable community members, including Asian-American seniors, I called for a hearing on crime and violence targeting Asian-American seniors and other vulnerable groups and the rise of anti-Asian racism. Keeping our communities safe is more complex than laying blame, but about taking collective responsibility. This hearing will provide us the opportunity to take stock of how our San Francisco agencies prevent and respond to violent incidents, how we invest resources in the community, and how we can more meaningfully and tangibly respond to create and develop community public safety and cross-racial solidarity, which is fundamental to our ability to thrive.

I also recently joined SFPD's new Community Liaison Unit, Taraval Station and Outer Sunset Merchant and Professional Association to speak to Chinese media and conduct outreach to merchants and residents throughout the Sunset and Parkside Districts. We distributed bilingual public safety information and discussed concerns and ideas to ensure that all communities are safe and secure.

Read more in KTVU
ADU Building Permit Fees Waived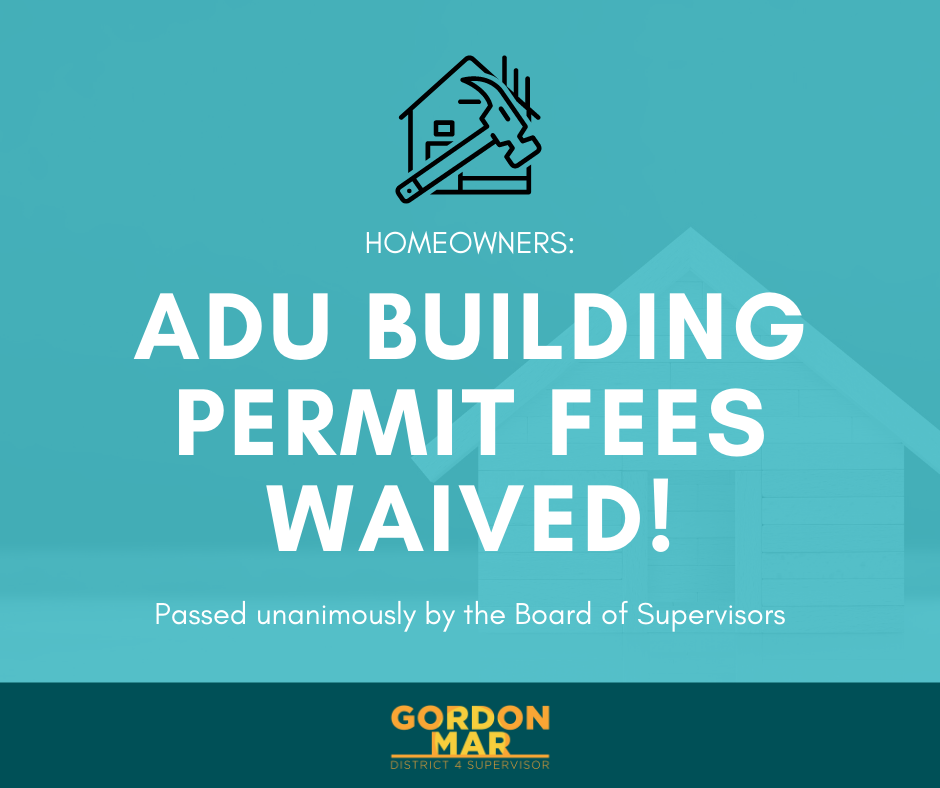 Our legislation waiving building permit fees for accessory dwelling units (ADUs, a.k.a in-laws) in single-family homes passed unanimously!

In neighborhoods like the Sunset, ADUs are a critical strategy to address our housing crisis. Building more ADUs means building more homes for renters and people who would otherwise be priced out, with minimal change to the physical character of our neighborhoods.

By waiving building permit fees on ADUs, we are incentivizing and helping homeowners expand affordable housing opportunities and support extended families and seniors with mobility and caretaking needs.

I'm grateful to my colleagues for supporting this important legislation and excited to continue this work. This build on policy changes over the past five years to streamline ADU construction, and our ADU Incentives Pilot Program with Asian Inc, and I'm exploring additional policies to remove technical and financial barriers to ADU construction for moderate-income homeowners, and to further incentive affordability.

Read more from CBS
Holding Government Accountable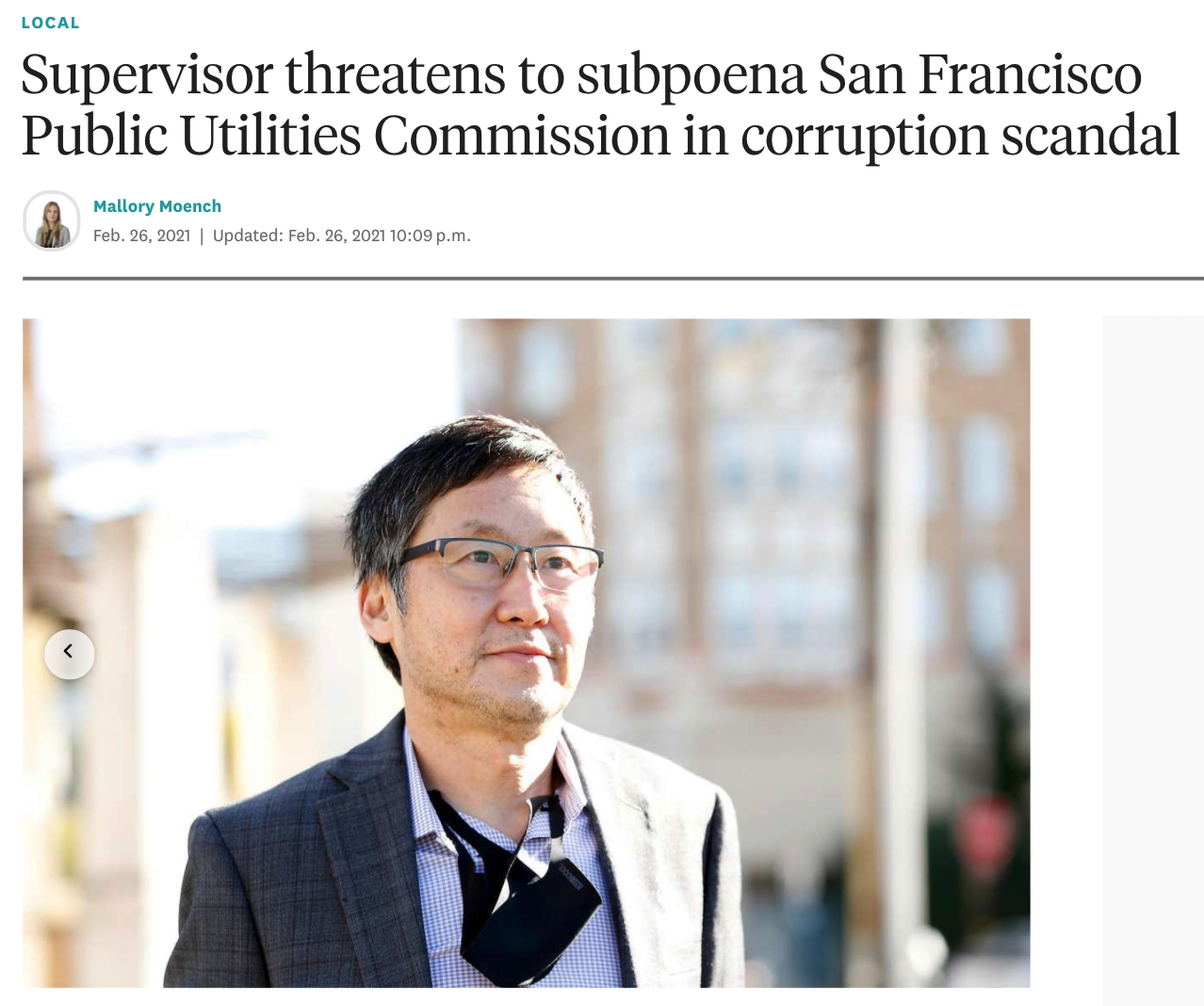 Government must be transparent and accountable to the public. So I called for a hearing on the San Francisco Public Utility Commission's contracting and community benefits, and management agreements for the Sewer System Improvement Program, to ensure that it is — especially amidst a City-wide reckoning with pay-to-play politics and public corruption.

This builds on the Letter of Inquiry I submitted in December, and the audits I called for in 2019. These community benefits have been promised or delivered by firms winning lucrative contracts worth over $2 billion. I think it's important that the public has access to these contracts, records of these expenditures, and information on how and why these agreements were made.

The public deserves answers, and I hope this hearing will offer them.

Read more in the Chronicle
City Budget Priorities
We are in budget season, and need your feedback on budget priorities. Each year the Board of Supervisors strives to design a budget process with broad involvement from members of the public who we are most accountable to. While this will be a challenging budget year, I am committed to investing in critical public services, as they are essential to stabilizing our economy during a period of economic recession, and provide the best possible foundation for a swift economic recovery for all.

If you are in District 4, please take the District 4 Budget Survey to provide your input.

We will share the results at a Budget Town Hall this Spring before the Budget comes before the Board of Supervisors.

More information on the City Budget process is available here.
Take the Survey2550 Irving Street Affordable Family Housing
In January I co-hosted the first community meeting about this development, and pushed for a more robust community process to help the non-profit developer TND draft a design. They are very early in the process and in the phase of gathering community input, including hosting community conversations in March, virtual meetings in April and May, office hours, and opportunities to provide input online throughout the Spring.

Be sure to visit their website and sign up for alerts from TNDC by emailing 2550IrvingInfo@gmail.com to get on their project email list. TNDC is also offering meetings upon request by email.


Museums & Tennis Center in Golden Gate Park

Museum Re-Openings
The de Young Museum will re-open this Saturday, March 6, with the American premiere of the traveling exhibition "Calder-Picasso." The show explores the relationship between American mobile creator Alexander Calder and Spanish painter Pablo Picasso. The exhibition runs through May 23.

"Frida Kahlo: Appearances Can Be Deceiving," which had been open for 10 weeks before the de Young closed in March 2020, will also return. It is extended through May 2, with advance tickets required.

The de Young plans to offer free admission on Saturday and all Saturdays thereafter.

Read more in the Chronicle, and learn more at the de Young's website.

The Academy of Sciences will be reopening to the public on March 17, with advance access for members and donors on March 15-16. Tickets will be available online beginning March 10. Visit the Academy's reopening page for important health and safety updates, ticketing information, and FAQs.

Goldman Tennis Center Now OpenThe new Lisa & Douglas Goldman Tennis Center in Golden Gate Park has opened! The renovation has transformed the legendary Golden Gate Park facility into a state-of-the-art public tennis center accessible to first-time players and seasoned athletes alike, with 16 /utsa-regulation tennis courts, five mini-courts, a 7,800 square foot clubhouse, new patio spaces, a garden, and a dedicated classroom space to expand after school tennis instruction, academic tutoring, and leadership development to youth from underserved neighborhoods.

The Goldman Tennis Center offers affordable rates, including discounts for seniors, youth, and San Francisco residents. Weekday court rentals are free for San Francisco youth before 6 p.m., while seniors can rent a court starting at $4 an hour.

Online court reservations can be made here or by calling (415) 581-2540. COVID-19 health precautions require advance reservations to play or visit.L-Taraval Construction Forecast
19th Avenue Construction Update
19th Avenue Construction Update

Week of March 4, 2021

Contractor JMB Construction and Public Works crews are busy this week and in the coming month performing a variety of upgrades in the following sections along 19th Avenue.Sewer work continues between Lincoln and Irving on the eastside (northbound lanes) until 3/15/21. This includes catch-basin work, 21" VCP pipe and manhole installation.Water Installations at Lawton until 3/19/21. Crews are conducting the connections, chlorination and connections the week of 3/15/21.Emergency Auxiliary Water Supply monitoring points are occurring at Kirkham and Noriega.Electrical work at Winston and Holloway, beneath the Muni trackway on the southside of Holloway. This work will continue until 3/19/21During construction, delays are expected on 19th Avenue, and Public Works recommends using the following routes:


You can view this project fact sheet here, and find more information and sign up for email updates at the Public Works project website.
Sunset Wellness Mercantile

A special message from Angie Petitt-Taylor of Sunset Mercantile:My name is Angie Petitt-Taylor and I am the Director of Sunset Mercantile. We organize the Outer Sunset Farmers Market and have recently launched a new outdoor project called Sunset Wellness Mercantile, an open air merchant corridor and community space on a closed to traffic 37th Avenue between Ortega and Pacheco street. However individual businesses dictate their own hours and can choose to participate one day a month or every day of the week.

Our hours for the market will be:
Mondays/Fridays/Saturdays 9am–8pm
Tuesdays–Thursdays 3pm–8pm

We welcome all businesses and organizations to pop up including dance, yoga, fitness, day camps, tutoring, art classes, non profits, services, classes, merchants and makers of any sort. We will have staff on site to manage the corridor, a food truck or two and "restrooms".

We would like to offer all new vendors joining us a free space for their trial day! (does not cover a $25 application fee) You are welcome to take a space and hold classes all day.

Signing up for the event is easy! Just create a profile and click on the Apply to Market button located in the upper right hand corner and type in "San Francisco" or "94122" into the search bar. You will see Sunset Wellness Mercantile as one of the first markets listed.

There is a lot of excitement and intrigue around this project however as with any new project it will take a little time to grow. We invite you all to join us and help us develop this innovative venture in the Outer Sunset community.
Please let me know if you have any questions or would like help brainstorming ways to help bring your business outdoors.
You can better get to know who we are by following @sunsetmercantile on IG/FB or visit our website
Sunset Boulevard Greenway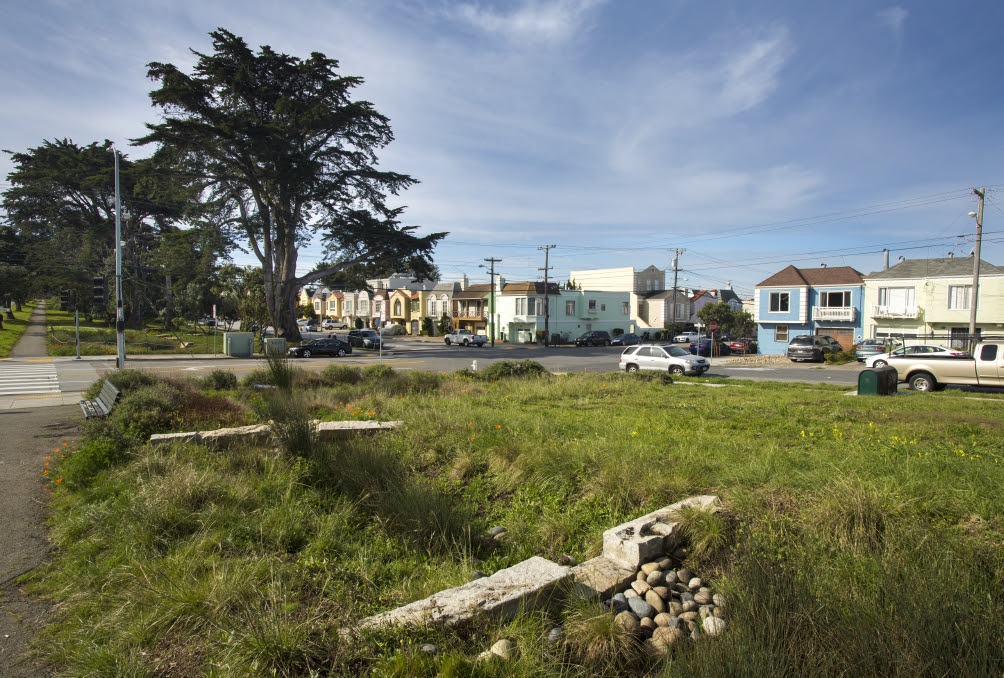 The SFPUC has made a lot of progress in installing new raingardens along Sunset Boulevard — one component of our long-term Sunset Boulevard Master Plan. Scheduled to complete this year, the new raingardens on Sunset Boulevard will divert 4 million gallons of stormwater each year.

The heavy rains and winds San Francisco experienced in late January marked the first significant rainfall of the year. What happens to that rain once it falls is very important, especially for the San Francisco Public Utilities Commission (SFPUC). On average, over 10 billion gallons of rain falls in San Francisco each year. That rain falling on our roofs, sidewalks and streets sends those billions of gallons of stormwater into the City's combined sewer system through storm drains, where it is combined with wastewater from our toilets, bathtub drains, and sinks into one system that collects and treats it all together. During storms like the one experienced in late January, our sewer system works extra hard collecting and treating all that stormwater.

Green infrastructure — like the new raingardens on Sunset Boulevard — uses a combination of highly engineered systems and natural processes like plants and soils to slow down, capture, and treat stormwater. Instead of going to our sewer system, that rain soaks into the earth or is captured for reuse. In addition to being a critical strategy for sustainability and resilience in our sewer system, and saving taxpayer money, this helps replenish our natural water table, a vital ecological outcome.

You can also watch a short clip on the Sunset Boulevard Greenway project here.

You can also help San Francisco's Sewer System and Green Infrastructure: Become a Rain Guardian, Adopt a Drain, and help keep rain gardens and storm drains free of trash and debris. As a Rain Guardian or Drain Adopter you can help our Combined Sewer System and Green Stormwater Infrastructure do its job to protect our city and surrounding waterways.
Sunset Solidarity Spotlight: Save the Cliff House Collection!
San Francisco's Cliff House encapsulated a rich part of our city's for 157 years. It was more than a meal, and more than a view. It was a chance to experience the west side's unique atmosphere, a place where the spirits of our ancestors lingered, where all San Franciscans hosted out-of-town guests, and we introduced the next generation to our shared cultural history.The recent closure of the Cliff House is the end of an era, and our shared heritage is now being sold off, piece-by-piece, despite valiant efforts, by longtime owners to save their beloved business.

To combat this, The Western Neighborhoods Project, A.C.T. Art Conservation, LLC, and The Great Highway Gallery have joined together to raise funds to purchase the historic art, memorabilia, and items in the Cliff House collection to preserve them, keep them in San Francisco, and make them publicly accessible for viewing. You can learn more about this project at the Save the Cliff House Collection website, donate to support the effort, and ​​​​​​​watch a presentation about this campaign and the rich history it seeks to preserve!
​​​​​​​Take the SurveyVirtual Office Hours

I meet with constituents one-on-one every Friday afternoon, via Zoom. If you'd like to meet with me to discuss local issues or share comments, questions, concerns, or feedback, email us at marstaff@sfgov.org to schedule a time!
Sunset Street Cleanup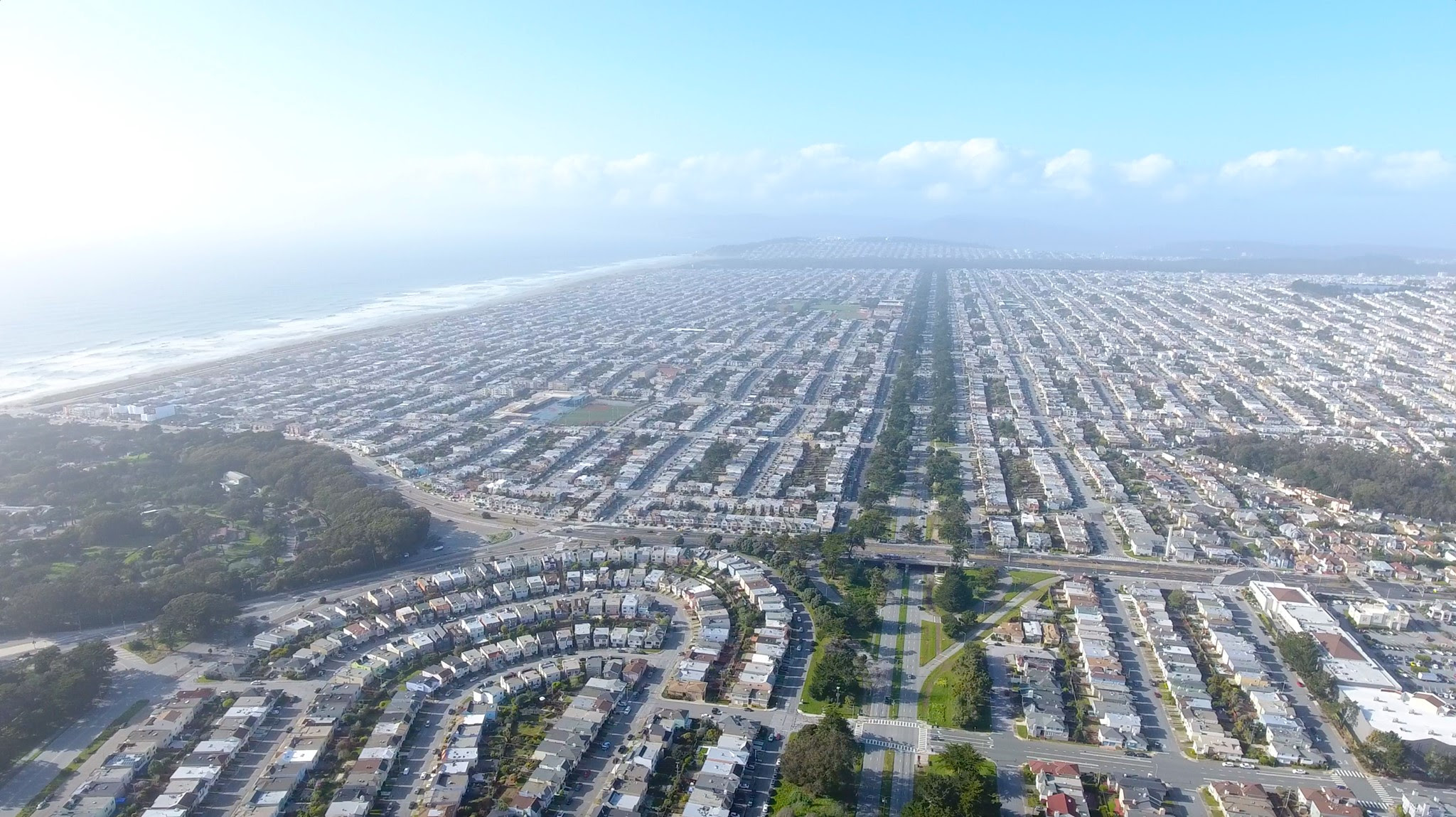 12:00pm Sunday, March 21st
A group of enterprising neighbors are planning a volunteer cleanup day on March 21st, meeting at Ortega and Great Highway, dispersing to pickup trash in the Outer Sunset, and finishing at the Outer Sunset Farmers Market and Mercantile.

We're so grateful for their community spirit and initiative, and hope you consider joining in the effort!
RSVP on Facebook#SunsetStrong Spotlight: Black Bird Bookstore
Kathryn Grantham is the owner of Black Bird Bookstore, a small business in the Outer Sunset at 4035 Judah Street. When shelter-in-place first started, she worked quickly to launch a webstore for her business, and since then Black Bird has frequently hosted booths at the Outer Sunset Farmers Market and Mercantile. Kathryn participated in this interview as part of our #SunsetStrong campaign, highlighting the resilience of our small business community. The interview was conducted and edited by Raj Paul Ghusar, with camera work by Emily Curiel, and produced by Sachi Cunningham.

Learn more about Sunset Strong, and support our vibrant local businesses at sunsetstrong.com!Watch the ProfileResources:
Find City information and services related to COVID-19
COVID-19 data tracker
COVID-19 testing
Support for workers
Housing help
Food resources
Utility bill relief
Resources for seniors and people with disabilities
LGBTQ community services
Immigrant resources
Mental health and substance abuse resources
Support for businesses