I am proud to announce the launch of #SunsetStrong , a community-driven initiative spearheaded by District 4 small business owners, artists and residents looking for ways to support their neighbors. #SunsetStrong is a social media and education campaign directing residents to community resources and ways to support small businesses and neighbors in the midst of the current public health crisis.

The spreadsheet of open businesses is now on the #SunsetStrong websiteand we are featuring businesses and stories of community resilience and solidarity on our Instagram and Facebook pages.

This is an evolving community effort: we are working to include nonprofits and faith institutions in the district, and we are also consolidating a list of ways to give and contribute to COVID19 mutual aid projects. Please get in touch with our office to share you or your neighbor's generous act of solidarity, update your business' information, and any ideas of how we can continue to bring our community together to weather this crisis.

I have never been more proud to be a Sunset resident, and I have never been more proud to call you all my neighbors. Please continue to contact my office at MarStaff@sfgov.org or (415) 554 – 7460 with any questions, feedback or ideas: we are here to serve you.

New Policies on Face Coverings
Everyone in San Francisco is now required to wear face coverings when they are outside of their homes for essential needs, including waiting in line for or inside of a grocery store or on public transportation. Additionally, transportation workers and other employees who interact with the public must also cover their face while doing essential work. A summary of the requirements of the Health Order is listed here.

D4 Virtual Town Hall: Youth & Families
Join us for our fourth virtual town hall to learn about the challenges facing families and youth and what actions the city and schools are taking to help us as a community to weather this crisis.

We will be joined by Maria Su, Department of Children Youth and Their Families, Matt Pemberton, Sunset Neighborhood Beacon Center, Josephine Zhao, parent leader, and a SFUSD representative.

April 25, 2020, 10am-11am

Join Zoom Meeting by link.

One tap mobile:
+16699006833,,92438608400#,,#,000867#

Call in: +1 669 900 6833

Meeting ID: 924 3860 8400
Password: 000867RSVP on FacebookCOVID-19 Cases by Zip Code

The City released a new map that displays confirmed cases of coronavirus in San Francisco by zip code. The map shows that the populations and locations in the City that are most affected by health disparities, income inequality, and structural racism are also the most affected by the pandemic to date. This data demonstrates the importance of the City's ongoing focus on equity and efforts to support vulnerable populations during the coronavirus response. You can see the map on the official SF Data Tracker website. Read the Mayor's full press release here.

Muni Service Updates

Starting Saturday, April 25, SFMTA will be modifying Muni's Core Service by adding some modified routes and increasing the frequency of buses on others. Affected Sunset Muni routes include the 28, L and N:

28 19th AvenueLocal stops between Geary Boulevard and Daly CityFrequency: approximately every 20 minutes (weekdays only, no weekend service)Being added to provide healthcare worker access between Daly City BART and UCSF Medical Center, Parnassus; creates additional north-south connectivity on west sideL BusIncreasing frequency to 10 minutes or less (weekdays and weekends)Being added to reduce crowding on buses, increasing riders' ability to physically distanceN BusIncreasing frequency to 10 minutes or less (weekends)Being added to reduce crowding on buses, increasing riders' ability to physically distanceVisit the SFMTA website for a full list of restored or modified services.
Discount taxi rides for seniors and people with disabilities

With the reduction in MUNI services, we know that walking farther to an alternate bus or paying for other transportation isn't possible, especially for seniors and people with disabilities. To serve this need, the SFMTA is announcing the Essential Trip Card (ETC) program to help seniors 65 and older and people with disabilities take and pay for essential trips in taxis during this crisis. Eligible participants will pay 20% of the cost of a regular cab ride fare for essential trips. The program uses taxis to take people to the grocery store, pharmacy or another necessary medical trip during the shelter-in-place period. Click here for more information or call 311 to apply.
SFUSD Learning on TV

We are excited to share that SFUSD is partnering with KTVU to provide an hour-long television episode every weekday especially for PK-2nd grade students in San Francisco. The show is called SF Loves Learning and will air on KTVU Plus from 2-3 p.m., Monday-Friday, from April 20 through June 2, 2020. The content on the TV show is created entirely by San Francisco public school educators and special guests. Each episode includes a daily lesson, wiggles & dance, a read aloud, music, mindfulness, and more.

We have concluded our distribution of PreK-2 learning kits. Families can find a PDF of the print contents online. There will be another distribution of materials in May.
District 4 Senior Phone Banks
Do you know what doesn't require facial coverings? Phone banking in the comfort of your own home! Together so far we've made 2900 calls and our office has followed up on more than 100 requests as a result of these volunteer wellness checks.

We have phone bank training this Wednesday and Saturday at 1pm. Call times are flexible and accommodations will be made for senior volunteers. Join us by signing up here.
#SunsetSolidarity Spotlight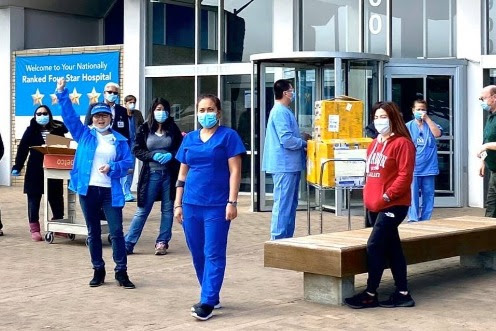 Sunset residents Tina Cen and Edwin Camarao have already raised over $11k to buy masks and other personal protective equipment for frontline healthcare workers! Tens of thousands of masks have been donated to Bay Area hospitals, nursing homes and homecare workers. Check out this video (by Thomas Pendergast of the Sunset Beacon) featuring the amazing work Tina and Edwin have been doing.

Please donate their GoFundMe page to help protect the health of essential frontline workers.


Yina and Soojin, the 2-person team at ODSY Workshop on Irving Street have been making and selling masks and donating half the profits to communities impacted by the public health crisis. For their first batch of masks, ODSY donated to UndocuFund-SF, which provides essential aid to undocumented workers in San Francisco impacted by the pandemic.

We are so moved by neighbors like Yina and Soojin stepping up to help out those in need during this crisis! Support impacted communities, ODSY, and protect yourself and others by ordering a beautiful, artisan-made mask here. Follow ODSY on Instagram: @odsyworkshop
City Resources:
COVID-19 Data Tracker
City COVID-19 Website
Mental Health Resources
Food Resources
Domestic Violence Updates
Resources for Workers and Businesses
_____________________________________
RichmondSunsetNews.com is sponsored in part by:
Click on graphic for more information.